Saturday, January 20, 2018
Apple Stage (Keynote Speakers)
10:50-11:10 - Zoe Rosenberg. "In order to achieve, we must believe"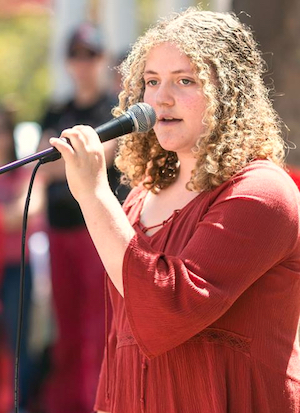 Zoe Rosenberg is a 15 year old animal rights activist and founder of Happy Hen Chicken Rescue. Her organization has rescued over 600 animals from abusive situations, primarily the food industry. She is also an organizer with the grassroots animal liberation network, Direct Action Everywhere. She has taken part in major protests and disruptions on behalf of the animals, and has spoken at the National Animal Rights Conference, the San Francisco March To Close All Slaughterhouses, and other venues.
12-12:30 - Dominick Thompson. "Redefining Masculinity Through Veganism"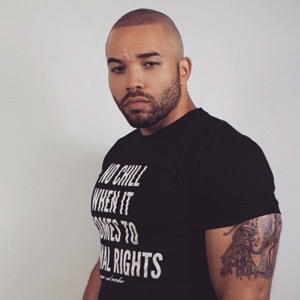 Dominick Thompson is a leader in the vegan community and founder of Crazies and Weirdos®, a successful New York based start-up company that produces hip, sustainable, eco-friendly clothing dedicated to the animal rights movement. He is also the founder of IRON BRUKAL (a sports and fitness brand, dedicated to the working professional, with plans to open training facilities in 2019), and a full-time executive in the healthcare industry where he develops and manages many critical relationships with hospital systems and other provider types in order to deliver services to communities in need throughout the eastern region of the United States. Dominick has received global recognition and has been featured in NPR News, ABC News, Men's Muscle and Fitness Magazine, Esquire, Thrive Magazine, Origins Magazine, PETA and more. His social media platform is strong and continues to grow while producing some of the most inspiring, impactful content to over 150,000 followers. See craziesandweirdos.com for more information.
12:45-1:30 - Victoria Moran. "Vegans on Main Street: Change Your Life & Make a Difference in the Real World"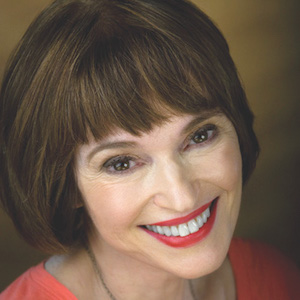 Victoria Moran (www.mainstreetvegan.net) is a vegan of over three decades, an obesity survivor, and is the current female winner of the "Peta's Sexiest Vegan Over 50" competition. Listed by VegNews among the Top 10 Living Vegetarian Authors, she's written twelve books, including The Love-Powered Diet, The Good Karma Diet, the international bestseller Creating a Charmed Life, and the iconic Main Street Vegan, whose fans range from Bill Clinton to Ellen Degeneres. Victoria was featured twice on Oprah; she hosts the award-winning Main Street Vegan podcast; and directs Main Street Vegan Academy, the exciting in-person program in NYC that trains and certifies Vegan Lifestyle Coaches and Educators. She is also producer of Thomas Jackson's upcoming documentary,The Compassion Project, introducing veganism to people of faith.
1:45-2:30 - Robyn Landis. "THE WEIGHT IS OVER: How to Laugh at a Meaningless Number and Lose Fat, Gain Energy and Get Strong and Lean—For Good"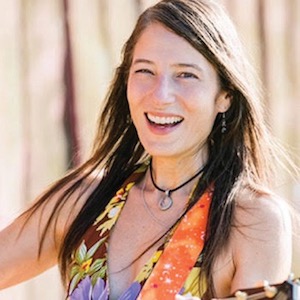 Robyn Landis is an outdoors-loving holistic health educator, coach and consultant, an ACE-certified fitness trainer, fitness nutrition specialist and "joyful self-care instigator." She is the bestselling author of BodyFueling and Herbal Defense (Warner Books), and the forthcoming NOURISHED. A one-woman transformational boot camp and mind-body revolutionizer, she helps smart and successful (but tired and out-of-shape) people to fuel their bodies and nourish their lives—with joy, clarity, and a sense of choice.
Through speaking and individual/group training, consulting and coaching, Robyn empowers people to become "athletes of their lives": super-informed *and* deeply inspired to optimally eat-move-sleep-unstress, to get strong, lean, and energized—for good. She pinpoints exactly what you need to do to achieve the body and energy that's fit to fulfill your purpose—AND become powerful and unstoppable in living it.
Robyn synthesizes her 25 years of experience and study with the latest research—discerning what truly matters for high performance, optimal health, and ageless beauty. Her intelligent mind-body approach infuses both science and spirit, information and inspiration. She eliminates focus on irrelevant "weight" and "magic bullet solutions," and integrates food, movement, rest, meditation and Ayurveda/natural healing to create a strong foundation for health.
2:55-3:40 - Christopher & Sara Oakley. "Finding Health, Happiness, & Connection: The Body + Mind + Soul Approach to Veganism"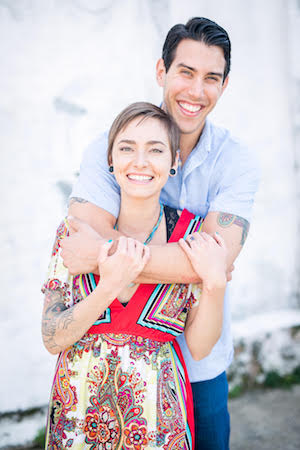 Christopher & Sara are lifestyle design specialists, podcast hosts, and the founders of Soul In Wonder, a transformative holistic wellness company aimed at igniting a healing flame in change-seekers, helping them to unleash their best, most authentic self through the mastery of vibrant health, deeper self-awareness, and profound soulful connection. Using their inspirational story of overcoming trauma, supported by their professional training in the fields of life/emotional intelligence coaching & herbal medicine, Chris & Sara will leave you with powerful tactics to go deeper within the self to enrich your vegan lifestyle. They will teach you the importance of addressing ALL aspects of health with the holistic approach to veganism & discuss the crucial role personal development plays in advocacy, human connection, and overall happiness.
3:45-4:15 - Tess Challis.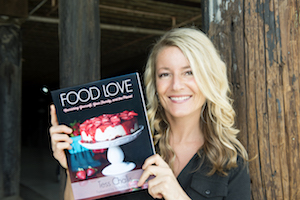 Quintessence ("Tess") Challis began her holistic health journey in her late teens. After a lifetime of numerous health ailments (including acne, obesity, strep throat, constant illnesses, anxiety, and depression), she found that a vegan diet along with an "inner wellness regime" of meditation and visualization literally made a world of difference. In 1994, she began sharing this knowledge through cooking classes, catering, meditation classes, and workshops. She has also been a personal chef to many clients across the United States. She is the author of 3 books: Radiant Health, Inner Wealth; The Two-Week Wellness Solution: The Fast Track to Permanent Weight Loss and Vitality; and Radiance 4 Life: The 4 Cornerstones of Ultimate Vitality. She currently works as a wellness coach, healthy cooking instructor, and speaker.
4:20-4:50 - Nicole Moore Eisenberg. "Unleash Your Vegan Magic"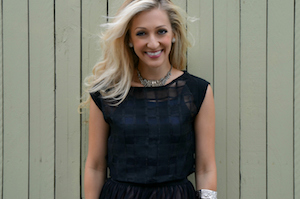 Nicole Moore Eisenberg is the founder of VOAA and serves as the group's director. She was born and raised in Pittsburgh, PA and has a degree in Journalism & Mass Communication from St. Bonaventure University. She has been a vegan ally since college and vegan since May 2009. After living in D.C., Chicago and NYC, she now lives in Denver with Aaron and their adopted dogs, Ezra and Ziggy Starfish. Her favorite emojis are sun, squirrel and flame.
Pear Stage (Cooking Demos)
10:45-11:15 - Jacques Laventure.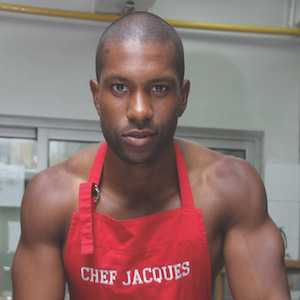 Jacques Laventure's healthy dishes incorporate traditional cuisines with his desire for natural flavors. He mixes in flavors from the Texas BBQ ,Caribbean and Haitiwhere he grew up with his family. Jacques is part of the Haitian Culinary Alliance, a Global Non-Profit educational networking organization of hospitality and culinary professionals. He also gives back through health and fitness educational programs to underprivileged children in US and Haiti.
11:30-12 - Sean & Krystal McDonald.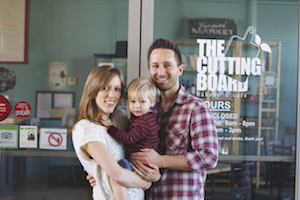 Recognizing the need to bring healthy food to a community where these options are scarce, Sean and Krystal Macdonald opened The Cutting Board Bakery and Café in Mesa AZ in September 2013. Food had always been at the heart of their relationship, and their passion for the culinary arts began to simmer when they first met ten years ago. They continue to share a desire to educate themselves and others about good, wholesome food.
12:15-12:45 - Jason Wyrick.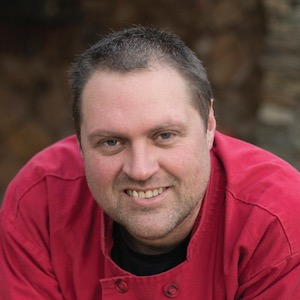 Jason Wyrick is the Executive Chef of The Vegan Taste, delivering fresh vegan organic meals across Arizona. He is also the co-author of NY Times Bestseller 21 Day Weight Loss Kickstart and author of Vegan Tacos and the upcoming Vegan Mexico. He is the first vegan instructor to teach in the Le Cordon Bleu program and publisher of the world's first vegan food magazine, The Vegan Culinary Experience. In 2001, Chef Wyrick defeated Type II diabetes and lost over 100 pounds by going vegan. Since then, he has helped thousands of people and animals with his work. He currently travels the world teaching vegan cooking classes and managing his vegan meal delivery service. You can find out more about Chef Jason Wyrick at www.thevegantaste.com.
1-1:45 - Luke Elwin.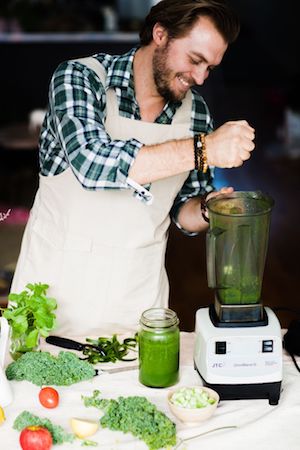 Luke Elwin was born in Auckland, New Zealand. He started working in a restaurant at the age of 12, and at age 16 left school to cook full-time. After completing a chef apprenticeship in Melbourne, he spent 9 months in Japan learning new techniques and disciplines. Back home, he became group head chef of a restaurant company. He also worked as a restaurant consultant, creating concepts and menus, training staff and balancing budgets. He then set out to the sea, joining the super yacht industry. Luke now balances his schedule between super yachts, private clients and consulting. He is known for a playful and fun approach to vegan cooking.
2-2:45 - JL Fields. "Everything You Need to Know to Make Quick & Easy Meals in Your Instant Pot, Mulitcooker, or Pressure Cooker"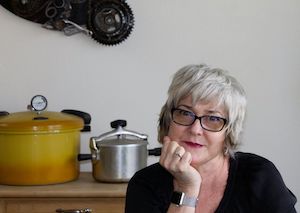 JL Fields is the founder and culinary director of the Colorado Springs Vegan Cooking Academy. She is a Master Vegan Lifestyle Coach & Educator, Food for Life instructor, chef instructor in the culinary program at the University of New Mexico-Taos, personal chef, career coach, and a corporate consultant offering wellness training, brand representation, and strategic planning services.
JL is the author of the revised and updated Vegan Pressure Cooking: More Than 100 Delicious Grain, Bean, and One-Pot Meals Using a Traditional or Electric Pressure Cooker or Instant Pot® (Fair Winds Press, January 2018), The Vegan Air Fryer: The Healthier Way to Enjoy Deep-Fried Flavors (Vegan Heritage Press, June 2017), and Vegan Pressure Cooking: Delicious Beans, Grains, and One-Pot Meals in Minutes (Fair Winds Press, January 2015), co-author of The Main Street Vegan Academy Cookbook: Over 100 Plant-Sourced Recipes Plus Practical Tips for the Healthiest, Most Compassionate You (Ben Bella, December 2017) and Vegan for Her: The Woman's Guide to Being Healthy and Fit on a Plant-Based Diet (Da Capo Lifelong Books, July 2013) and co-creator of The 3-Month Real World Vegan Meal Plan. She produces and hosts the weekly radio program Easy Vegan and writes the monthly vegan dining review for the Colorado Springs Gazette. 
3-4 - Fran Costigan. "Decadent and Dairy Free Desserts for All!"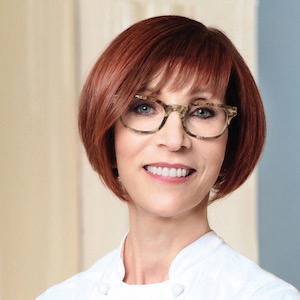 Pastry chef, educator, and cookbook author, Fran Costigan is internationally renowned as the authority on vegan desserts. She was a chef in both traditional and vegan pastry kitchens before moving into teaching over 20 years ago. Her 90-day Essential Vegan Desserts Course, which is based on her Vegan Baking Boot Camp Intensive, is now available online with Rouxbe. Fran's cookbook, Vegan Chocolate Desserts: Unapologetically Luscious and Decadent Dairy-Free Desserts, is available in German, French and Italian editions and follows the classic, More Great Good Dairy Free Desserts Naturally.
Kumquat Kids' Area
Kids, come visit your special Festival space for storytelling, arts and crafts, an information station, a bounce house, and a lot more veg-oriented fun!