Sunday, February 3, 2019
Apple Stage / Keynote Speaker Panels & Cooking Demos
Emcee - Will Tucker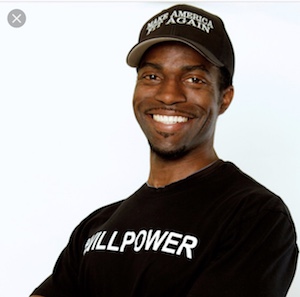 10:40-11:10 - "What the Heck Do Vegans Eat? Featurlng Chickpea Salad Chef Demo" with Dr. Denise Rose & Georgie Campas Sponsored by Casa Terra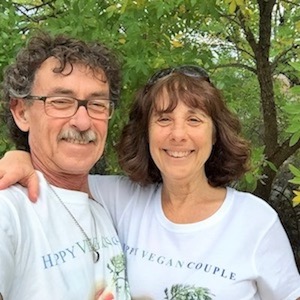 The Happy Vegan Couple, Dr. Denise Rose and Georgie Campas, teach people how to transition from eating the Standard American Diet to a Whole Food, Plant-Based (WFPB) Lifestyle. They present classes in a variety of formats including a 5-6 week series and single classes with cooking demo included. In Tucson, Az, Denise and Georgie have taught for the Osher Lifelong Learning Institute, Via de Dios, Pima College employees, Oro Valley Town Government and Barefoot Yoga Studio. They have published their own guidebook for newcomers wanting to transition to eating WFPB titled, "The Happy Vegan Couple Guide to Whole Food Plant-Based Eating." They post WFPB cooking videos on their Happy Vegan Couple YouTube channel to help people learn how to cook delicious, healthy foods in their own kitchens. On Facebook, they run an educational site about the WFPB lifestyle. As a Ph.D. sociologist, Dr. Rose brings a sociological perspective to issues of food policy, public health, planet sustainability and animal welfare. As a lifelong chef enthusiast, Georgie loves teaching people that cooking WFPB is not difficult at all, it's just deliciously different.
11:20-12 - Jacque Tarlton, Marzia Prince & Tierra Burrell "Panel: Starting a Veg Business"

Jacque Tarlton and Marzia Prince are Health & Fitness Experts who own a fun and energetic plant based coaching company, Plant Chics. Their mission is to plantspire women to live their best life through plant based foods, fitness, and their Plant Chics Tribe, while empowering women to break unhealthy habits and create positive lifestyle changes, focusing on a sustainable lifestyle that helps reverse chronic illness and disease.
Holistic practitioner and lifestyle strategist, Tierra Burrell is the epitome of a self-empowered, authentic, and purpose-led entrepreneur. Using her own physical and spiritual transformation as a blueprint, Tierra founded Tierra Goes Green, a total body wellness platform designed to help others escape the cycle of chronic illness and discover the power within. Tierra's unique brand of "self-help," while anchored in plant-based eating, also connects diverse aspects of food culture with psychological theory and proven methods of personal development. Her subsequent product line of handmade body butters, oils, and supplements provides the perfect complement to the total body wellness curriculum she provides to clients. Tierra holds a bachelor's degree in Anthropology from American University and can be found across all social media platforms as @TierraGoesGreen. For more information on Tierra and her signature offerings, visit TierraGoesGreen.com.
12:10-12:40 - Chef Demo: Haritha Mogilisetti "Tangy Tamarind Rice and Chole / Chana Masala" Sponsored by Casa Terra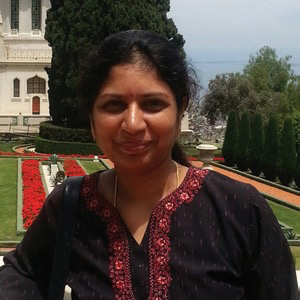 Haritha Mogilisetti is an active member of Goshala, an organization for protecting cows. While pursuing her career in engineering, she always expressed her love for animals and nature. Having grown up enjoying a wide variety of tasty and healthy Indian vegetarian food, she is interested in teaching the preparation of vegetarian dishes to those trying to switch to a vegetarian diet.
12:50-1:20 - Chef Demo: Jade Lotty "The Caribbean Queen's Vegan Jerk Chicken" Sponsored by Casa Terra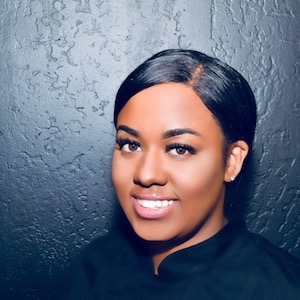 A Brooklyn native, Jade Lotty has cultivated a dining experience from Jamaican, Dominican, Guyanese, European, and other cuisines, plus a recent passion for plant-based dishes. After 8 years of bartending, she established Caribbean Queen to share her experiences of Caribbean colors and flavors.
1:30-2:30 - Rabbi Dr. Shmuly Yanklowitz & Dr. Orestes Gutierrez, moderator: Matthew Piccione "Panel: Vegan Spirituality"

Rabbi Dr. Shmuly Yanklowitz is the president and dean of Valley Beit Midrash, founder and president of Uri L'Tzedek, founder and CEO of The Shamayim V'Aretz Institute, and founder and president of YATOM: The Jewish Foster & Adoption Network. He earned a master's degree from Harvard University in Leadership and Psychology, another masters from Yeshiva University in Jewish Philosophy, and a doctorate from Columbia University in Moral Development and Epistemology. He has twice been named one of America's Top Rabbis by Newsweek. He is a sought-after educator, social justice activist, and motivational speaker, and is the author of eleven books.
Dr. Gutierrez is a 20-year vegan, and is a family medicine physician. He completed training at the renowned Mayo Clinic after serving on active duty in the United States Navy during the Iraq War. He is the president of Osteopathic Physicians & Surgeons of Oregon, and a regional dean of Pacific Northwest University of Health Sciences.
Comedian Matthew Piccione has been living a plant-based lifestyle for 10 years. He performs stand-up at numerous veg festivals and at comedy clubs around the California area. His current comedy show has been running for 3 years strong. Matthew is also a community advocate and public speaker for non-profit organizations. He enjoys visiting schools to inspire and motivate youth on the topic of veganism.
2:40-3:20 - Shirley-Ann Behravesh, Chuan Liao, Yolanda Soto, Christopher Wharton & Dorie Morales, moderator: Matthew Piccione "Environment Panel: Eco Activism"






Shirley-Ann Behravesh is a Senior Sustainability Scientist and faculty member within ASU's School of Sustainability. She holds degrees in management, finance, manufacturing engineering and sustainability. Her research focuses on understanding sustainable organizations, their culture, leadership and their goals. She also works in the field of supply chain sustainability, social entrepreneurship and the design of sustainable products including biomimicry.
Chuan Liao is Assistant Professor in Food Systems in the School of Sustainability at Arizona State University. He holds a PhD in Natural Resources from Cornell University. His research focuses on sustainable development, with specific interests in understanding the relationships among land, rights, and resources, as well as the causal mechanisms for achieving synergistic outcomes in agricultural production, environmental conservation, and human well-being.
Yolanda A. Soto is the president, CEO, and first executive director of Borderlands Food Bank, a nonprofit with the mission of helping to feed the nutritiously vulnerable through partnerships with hundreds of community organizations. She lives in Nogales, Arizona where she was born and raised.
Professor Christopher Wharton is assistant dean of innovation and strategic initiatives at ASU's College of Health Solutions and a researcher in the Health Lifestyles Research Center. He is also a Senior Sustainability Scientist and faculty coordinator of the Swette Center for Sustainable Food Systems in the Julie Ann Wrigley Global Institute of Sustainability. His research interests include lifestyle-wide behavior change, voluntary simplicity, plant-based diets, food systems and sustainability, food waste, screen time behaviors, and active commuting.
Dorie Morales is the publisher and editor in chief of Green Living magazine, Arizona's premiere eco-conscious lifestyle publication. The monthly magazine educates, inspires and empowers readers to make eco-conscious choices for a healthy life and healthy planet. The goal of Green Living is to improve our planet today and leave the earth a much better place for future generations.
Comedian Matthew Piccione has been living a plant-based lifestyle for 10 years. He performs stand-up at numerous veg festivals and at comedy clubs around the California area. His current comedy show has been running for 3 years strong. Matthew is also a community advocate and public speaker for non-profit organizations. He enjoys visiting schools to inspire and motivate youth on the topic of veganism.
3:30-4:15 - Ndem Nkem, Robert Cheeke, Tiana Hill, Kenyatta Banks & Chef Krystal, moderator: Will Tucker "Super Fit: Athletics on a Plant-Based Diet"


Ndem Nkem is a skilled Fitness Trainer, award-winning Powerlifter, Public Speaker and Vlogger. He credits going meat-free for 11 years and Vegan for the last 6 years, as being the best decision for his life, the animals and the planet. He has spoken at numerous events, featured in blogs and magazines such as Vegan Health and Fitness. Ndem inspires others to be active, build muscle and increase health all while living more compassionately through a Vegan lifestyle.
Robert Cheeke, Founder/President of Vegan Bodybuilding & Fitness. Robert grew up on a farm in Corvallis, OR where he adopted a vegan lifestyle in 1995 at age 15. Today he is the bestselling author of the books Vegan Bodybuilding & Fitness, Shred It!, and newly released, Plant-Based Muscle. As a two-time natural bodybuilding champion, Robert is considered one of VegNews magazine's Most Influential Vegan Athletes. He tours around the world sharing his story of transformation from a skinny farm kid to champion vegan bodybuilder. Robert is the founder and president of Vegan Bodybuilding & Fitness. He writes books, gives lectures, and maintains the popular website, VeganBodybuilding.com. He is a regular contributor to Vegan Health & Fitness Magazine, Naked Food Magazine, and Forks Over Knives, is a multi-sport athlete, entrepreneur, and has followed a plant-based diet for more than 20 years.
Tiana started practicing yoga 10 years ago. She received her Yoga Alliance 200-Hour Certification in 2011. Her favorite pose is Anjaneyasana (crescent pose) because it is such a strong posture and the only posture named after a woman. Tiana is a native Phoenician.
Kenyatta Banks is the creator and CEO of the Arsenal by Kenyatta HIIT/Strength workouts. He has taken his fitness program on tour throughout Arizona, hosted a military event in Columbus (Georgia), sweated with the college kids at Texas Southern University, led an all-women's workout in Katy (Texas), and had 80+ people show up for an epic session in Honolulu (Hawaii). Currently he can be found teaching Arsenal Hiit boxing, battle ropes and circuit classes at Tru Fusion Scottsdale. Online, he hosts the Arsenal Strong workout series.
Growing up, Chef Krystal's home offered multiple styles of cooking with family influences from Asia to Alabama. She graduated from Le Cordon Bleu College of Culinary Arts in Scottsdale. She has been working privately for professional athletes and their families while running her own vegan catering company--Chef Krystal Fitness--that provides healthful international fare and a line of protein-infused baked goods. She enjoys working with local farmers at Spaces Of Opportunity Farmers Market, The Orchard Community Learning Center, and the Roosevelt School District. She plans to open a plant-based community-run restaurant later this month. Recently she also competed in her first natural body-building show, where she placed second.
Founder of WTF! (Will Tucker Fitness), creator of the WTF! Method™ and 4-time Natural Bodybuilding Champion, Will Tucker is a sought-after speaker and wellness coach. Dubbed America's Vegan Trainer™, he improves people's health and vitality by combining plant-based nutrition with exercise. At his fitness studio in Mesa, he leads small-group, 30-minute training sessions that are fun, fast-paced and energetic. As a vegan competitive bodybuilder, Will has won multiple awards which have earned him a pro card. He has been featured on Good Morning Arizona television, is a regular contributor to Vegan Health and Fitness Magazine, and was featured on the cover of Vegan Lifestyle Magazine.
4:25-4:55 - Chef Nadira of Cutting Board Cafe "Cooking Demo" Sponsored by Casa Terra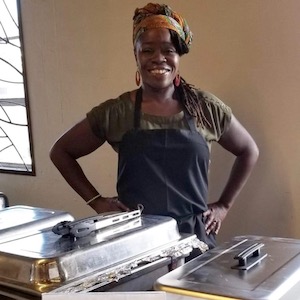 Nadira pursued the study of nursing and soon realized that traditional medical practices were not healing many of her patients. Some years later, she studied culinary management and became a chef, with further studies at Southwest Institute of Healing Arts where she earned certification as a Holistic Wellness Practitioner/Holistic Nutritionist. Over the past 20 years Nadira has started several food service business ventures and held positions in the medical field. She founded Global Fusion as a home-based vegan and gluten-free dessert company. With her friend Sabrina Metherell, she recently acquired The Cutting Board Bakery and Cafe in East Mesa.
Grape Stage
Emcee - Matthew Piccione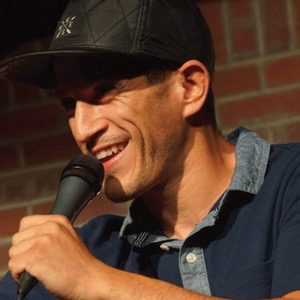 10:45-11:45 - The Tree Huggers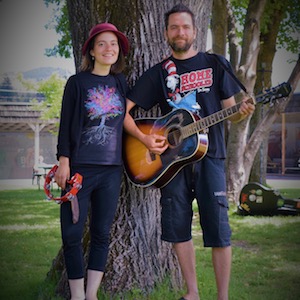 The Tree Huggers are an upbeat, fun acoustic duo from British Columbia, Canada. They play family-friendly tunes about love, the planet, and enjoying life.
12-12:45 - Miss Krystle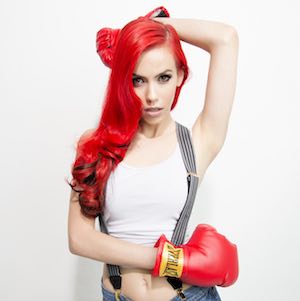 Miss Krystle is a 6-year vegan, pop singer and songwriter, entertainment attorney, and record label owner. She recently began her show: Cookin' Vegan with Miss Krystle, where she shares some of her favorite vegan recipes, and additionally taste-tests various vegan foods. Miss Krystle just delivered a Tedx Talk and performance, and will be releasing her first book on music and the law this year. In addition, she runs Young Ones United, a child abuse prevention charity. Landing air play on 93.3 Alt AZ for her title track, Relevant, Miss Krystle has now been added to 74 radio stations across the United States. Following her SXSW showcase, Miss Krystle has achieved several #1 tracks on Beatport, received 500k+ plays on Pandora, and 1 million plays on YouTube.
1-1:45 - Lee Perreira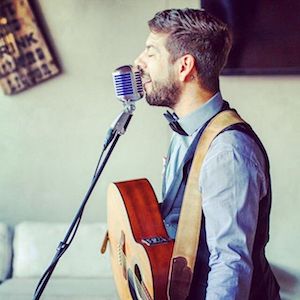 Award Winning Artist, Lee Perreira has opened for and sat in with Blues Legend Buddy Guy, opened for James Bay at Mix 96.9s SOLD OUT "Spring Thing" and has also shared the night with amazing artists such as Foo Fighters, Gary Clark Jr, Train, The Fray, INXS, Journey, just to name a few! His new album Whats That Gotta Do With My Dreams? is currently on rotation on over 100 radio stations across the United States!
2-2:45 - Danielle Durack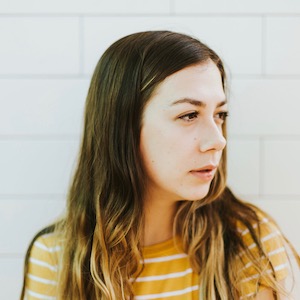 Danielle Durack is an American singer-songwriter based out of Phoenix, Arizona. Often compared to artists like Sara Bareilles and Ingrid Michaelson, Durack displays a surprising candidness in her songwriting. Her lyrics are honest and confessional, and sonically, her music shows off a knack for subtly infectious hooks and a commanding, yet vulnerable voice. Durack released her debut album, Bonnie Rose, in March of 2017, which was largely made up of piano-driven pop songs. The anticipated sophomore album is set to release in November of 2018, featuring a new taste of indie pop. The album, entitled Bashful, is an emotive collection of songs that explore themes of perseverance, love, and growth.
3-3:45 - Ellie Fern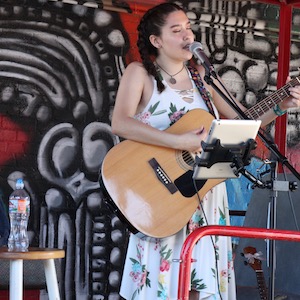 Ellie Fern is up and coming to the music scene in Arizona. Born and raised in Arizona, she began playing piano at age 8 and has expanded her talent to playing guitar, ukulele and writing her own songs. She has also participated in the top choirs of her school since 6th grade. Ellie has been selected twice to participate in the west regional Arizona High School Choir, and has sung in her student run acapella group, Gold Dust Avenue, for the past two years. Recently, she won a national internet radio talent search contest and will soon be releasing her debut album in spring 2019.
4-4:30 - Riley Family Circus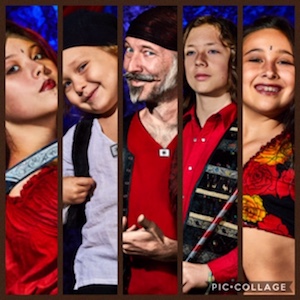 The Riley Rainbow Family Circus, with their homeschool programs, Circus Camps, Circus themed birthday parties, and traveling circus show, have been entertaining family's for over 10 Years. This amazing family of talented artists will inspire you and your family to new heights as they perform fantastic feats together.
Mind/Body Fitness Zone
11-11:45 - Katy Mendoza ¨Happy Healthy World Mindful Yoga Meditation"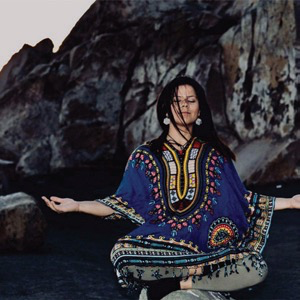 ¨
Katy is an entrepreneur and founder of Happy Healthy World. Her book Journey to the Light describes how she made the changes needed to start creating a life she was passionate about. Now she is a holistic coach offering all kinds of mobile services including personal training, Yoga, Reiki (energy healing) meditation, and Reiki massages.
In this class you will connect with your body, mind and soul through a Hatha Yoga practice incorporating mindful breathing and guided meditation through your yoga poses to balance and reset your chakras. You will feel flexible, clear minded and connected to source energy at the end of this class.
12-12:45 - Danielle Godfrey "Floo-id Yoga"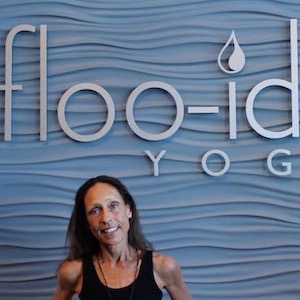 First introduced to Kundalini yoga in 1984, Danielle has been teaching a broad range of styles since 2001. She offers new perspectives on relieving the stressors of modern life through a fusion of mindful healing practices. Her expertise in verbal and hands-on adjustments ensures that every student finds ease throughout their practice of yoga. Danielle is also an E-RYT 500.
1-1:45 - Alison Leonka "Yoga Asana"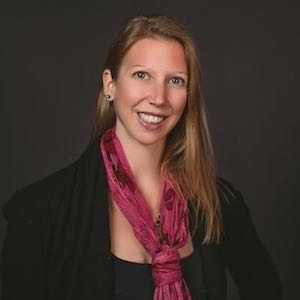 Alison Leonka received her degree in Wellness Foundations and Dance from Arizona State University in 2010, and her Occupational Certificate in Yoga Instruction from Iyengar Yoga Center of Scottsdale in 2012. Her post-baccalaureate studies have also included mindfulness training and lifestyle coaching. She teaches aerial dance and other dance arts, flexibility, conditioning, total body fitness, nutrition education, and behavior therapy.
Class: This class for all levels promotes overall wellness through the practice of physical postures, such as standing and seated poses, back bends, inversions, arm balances, seated twists, forward bends, supine poses, and Surya Namaskar (sun salutations). Students will expand their knowledge and application of alignment principles for both greater stability and mobility.
2-2:45 - Veronika Call of Metta Yoga "Vinyasa Flow"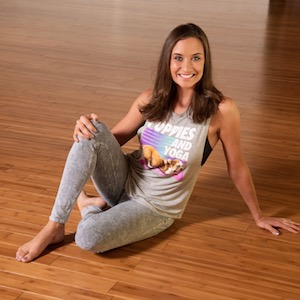 At Metta Yoga, we believe in the power of connection -- our bodies with our minds, our intentions with our actions, and our movements with our breath. We teach a variety of classes for first-time class goers, experienced yogis, and everyone in between.
Veronika Call is a 200 hour registered yoga instructor. She first truly fell in love with yoga while traveling through Southeast Asia volunteering and seeking some spiritual enlightenment. After a few years practicing yoga and evolving as a student she decided to take that part of her life to another level and she became a certified instructor so she could share the purpose of yoga with others. Veronika now manages Metta Yoga Studios and teaches yoga around the Phoenix valley. Yoga to her is not only to stay in good physical shape, but more importantly it's a process of finding "the aspects of being" that will continue for a lifetime.
Veronika will guide you through all levels of energizing vinyasa flow that is focused mainly on the beauty of basic postures and sun salutations, all composed in smooth sequences.
3-3:45 - Andrea Meneses ¨Reiki Yoga¨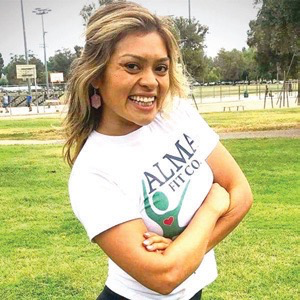 Andrea helps open minds to prosperity through living a healthy lifestyle. Her purpose is to empower others to implement plant based eating, functional training and self improvement tools. Her passion for nutrition, fitness, and self healing has led to the creation of the Energize System, a natural, easy to follow, health plan that works with people of all ages looking to heal their body through detoxification.
In this class you will activate your chakras, energy centers of the body, for deep healing. Stretching and yoga will open relaxation for the body and meditation will allow you to learn techniques for self healing mind, body and soul.
Elevate Yoga Aerial Zone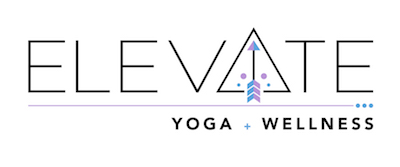 Mini-Aerial Yoga Class
In this all levels mini-class, an instructor will use the breath to move through aerial yoga asanas while incorporating modifications for all skill levels, accommodating beginners and experienced aerial yogis alike. After warming up, students will be led through a creative flow sequence, and will be given the opportunity to explore fun inversions using the aerial silk*.
10:45 am
11:30 am 
12:15 pm
2:30 pm
3:30 pm
4:30 pm
About the mini-classes...
Classes will be 30 minute mini-classes, open to all levels.
Students will be able to register / checked in for a class beginning 20 minutes prior to class start time.
No pre-registration required.
Students must be checked no later than 5 minutes prior to class start time.
Elevate Yoga is Phoenix's only aerial yoga studio. Learn more about them on their website, www.elevateyogaaz.com, and on Instagram + Facebook: @ElevateYogaAZ.
*The fabric that is used in aerial arts, circus arts, and aerial fitness is commonly referred to as "silks", but the fabric itself not actual "silk." The fabric is 100% Nylon Tricot.
Kumquat Kids' Area
Children of all ages are invited to visit their special area of the festival where they will find arts & crafts, face-painting, a bounce house, and a lot more veg-oriented fun!
The Riley Rainbow Family Circus will invite young people to explore and experience circus props and toys. Youngsters can also "join the circus" with Sean and Jai Riley who will instruct everyone on how to "Go with The Flow."
- Sunday Play Shop: 2:00-2:45 - ¨Go with the Flow¨: ages 7 and up
This special play shop introduces young people to the warrior within as a personal guide and flow artist. Working with the staff Jai and Sean Riley conduct energy to channel self confidence, personal growth and interconnectedness with the space around us all bringing each participant present to go with the flow in his or her life. Some staffs provided. Staffs hand made by The Riley Family available for purchase.
Artichoke Artists Area
Visit the top of the grassy knoll for a pretty panoramic view of the festival grounds. Engage with local artists and get an opportunity to watch some work. Plan to interact and pose with a variety of plant-inspired art pieces which will create a distinctive backdrop for unique selfies!
Gina Ribaudo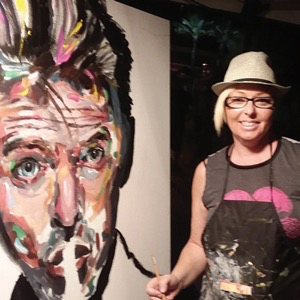 Gina will create a live art experience in front of your eyes, using her giant easel. She plans to create a colorful cow and possibly other fanciful subjects.
Gina Ribaudo is a self-taught artist with more than 25 years of experience in running her own mural painting business. She currently has a display of large-scale portrait pieces of musical icons at Tempe Marketplace. She also specializes in chalk art, live painting, speed painting, and teaching art classes. She enjoys giving back to the community by donating her fine art pieces to non-profits like the MASH animal rescue unit. Her clients range from restaurants, hotels, museums and schools to hundreds of homes. Gina has been featured in HGTV's House Hunters and many other programs.
Samantha Sawyer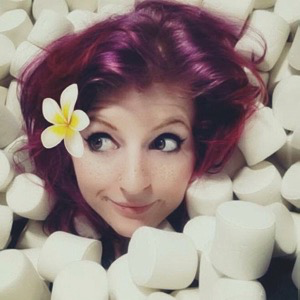 Samantha will give tarot readings and will present her colorful animal-centric artwork.
Samantha Sawyer (Sincerely Sam) is a comic book artist and illustrator. Best known for her covers for Coffin Comics' Lady Death and La Mureta and Big Dog Ink's Penny for your Soul, Kaiju Epic, Crucidel Producutions: 'Knightingail' and Ayee Dee Studio's 'The Changeling'. Samantha is also the creator of The Fae and the Fern Tarot Deck, The Fae and Fern Grimoire. Her work is heavily inspired by nature, fantasy, and the mythical world of the Fae. You can find Samantha on social media under Sincerely Sam.