Get your Tickets today! 
AZ Vegetarian Food Festival + Symposium
Saturday, February 15 & Sunday, February 16, 2020
Scottsdale Civic Center Amphitheater, 3939 N Drinkwater Blvd, Scottsdale, AZ 85251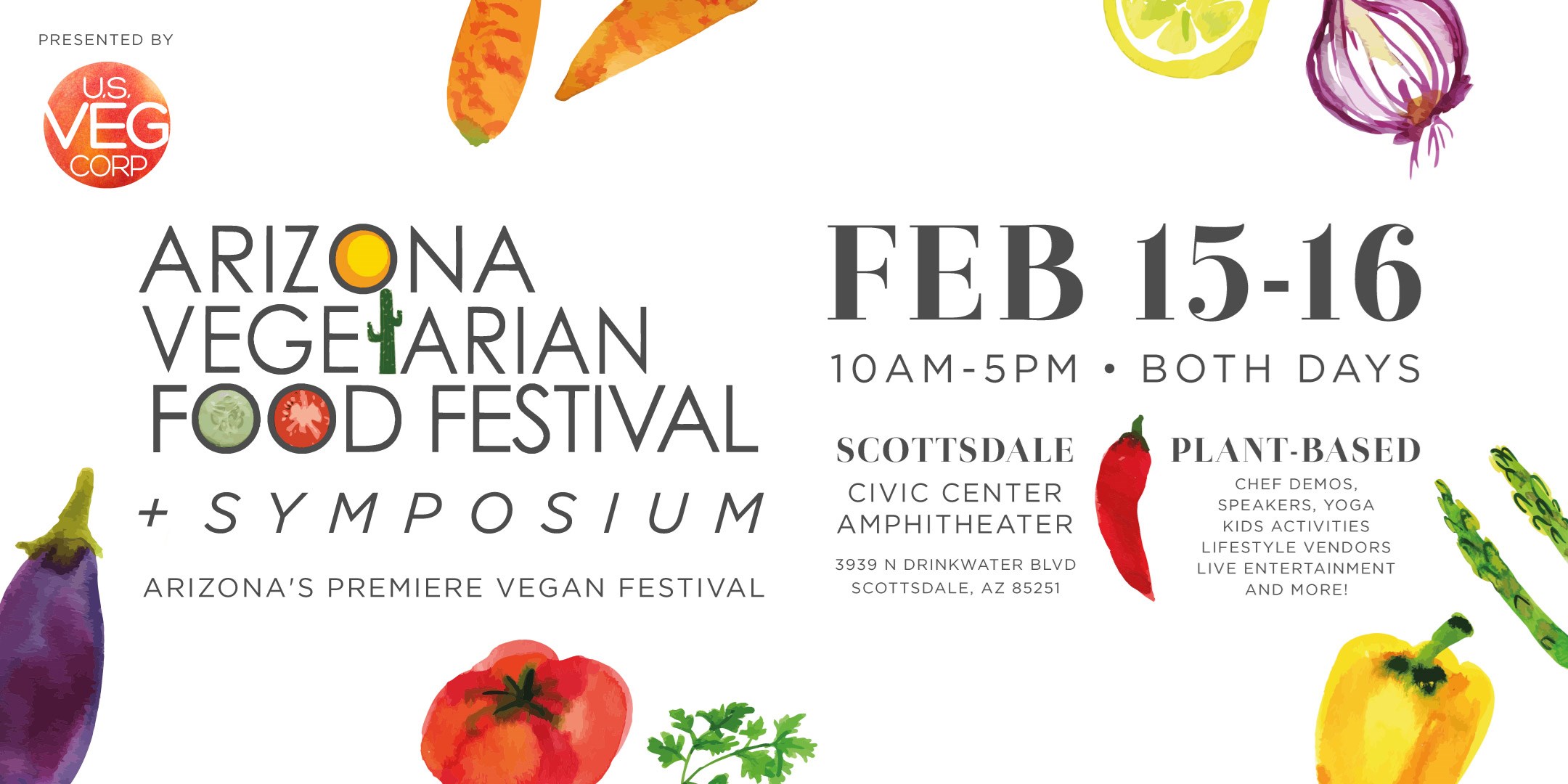 The 6th annual event includes plant-based food and products, speakers, chef cooking demonstrations, mind/body/fitness classes, kids activities & much more. The 2-day festival will be a showcase of 100% vegan innovation, with revolutionary plant-based food, products and fun for kids and adults alike.
FAQs
What are the hours of the Festival?
10 a.m. to 5 p.m. on both Saturday and Sunday.
If we are driving by car, where can we park?
Convenient, free parking is available at the following locations:
Civic Center Library Garage – Drinkwater Boulevard at East Second Street
Civic Center Lot and Garage - Wells Fargo Avenue
Old Town Parking Corral – East Second Street and Brown Avenue
Pepperwood Lot – East First Avenue at Buckboard Trail
What's the refund policy?
Tickets are non-refundable.
How much are tickets?
VIP Two Day Admission: $75 plus tax pre-sale only
One Day General Admission: $20 plus tax online pre-sale/ $30 plus tax at the Door
Single-Day Senior, Military, Student: $10 in advance, $30 at the Door
Kids Admission (Ages 0-10): Free
Reduced $5 end-of-day tickets will be available starting at 4:00pm each day for those interested in checking out some of the exhibitors before the festival ends at 6:00pm.
Online ticket sales close at midnight the day before. Tickets at the door are based on venue capacity and preference goes to pre-sale ticket holders. If you pre-purchased a Student / Military / Senior Citizen Admission but do not have a valid ID at the door, you will be charged the difference between the ticket and a door rate General Admission ticket to enter. No refunds or exchanges.
Will the Festival be held rain or shine?
Yes.
Are pets allowed?
Per health department regulations, only service animals are allowed on site.
Are there ATMs at the Festival?
There are no ATMs inside the Festival grounds. Plan to bring cash, although some of our vendors do accept credit cards as well.
Is the Festival fully vegan?
Yes, the event is fully vegan (no animal products anywhere). We showcase how delicious, varied, and all-inclusive a cruelty-free lifestyle can be!