SCOTTSDALE--A silver medalist in cycling will be one of dozens of headliners at the third annual Arizona Vegetarian Food Festival to be held at the Scottsdale Civic Center's outdoor amphitheater, January 28-29.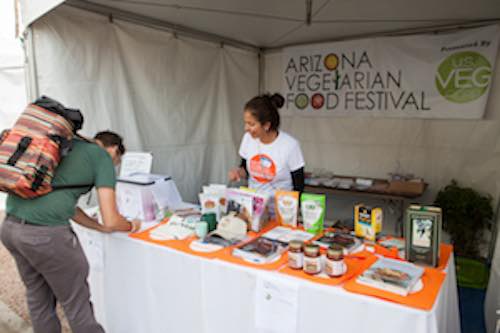 Dotsie Bausch, who scored a silver medal as part of Team USA's track cycling squad at the 2012 Olympics, is also a seven-time U.S. National champion and two-time Pan American gold medal winner. She has now transitioned from professional athlete to influential advocate in sports technology, health, wellness and animal rights.
Before getting into cycling, Bausch worked as a fashion model. But she suffered from an eating disorder which was not cured until she exited that profession. In 2012, she was named the National Ambassador for The National Eating Disorders Association. Additionally, she serves as a mentor for young women through the Network for Advancing Athletes.
Bausch also volunteers for Mercy For Animals and is in the midst of creating an adventure-based reality television show that follows the anatomy of farm animal rescue. Her talk at the festival is entitled "Fueled By Compassion."
Another presenter interested in animal rescue is Indra Lahiri. She is the founder of Indraloka Animal Sanctuary in Pennsylvania and co-organizer of the newly formed Global Coalition of Farm Sanctuaries. Lahiri has rescued thousands of animals from dire circumstances around the world. She will speak on "Tails From the Trenches."
Approaching animal welfare from a different angle, Mike Wolf will present a program on "The Importance of Undercover Investigations." Wolf has investigated hog farm suppliers and presented evidence that resulted in dozens of criminal cruelty charges against them. He joined Compassion Over Killing in 2014 as the Director of Investigations, where he spearheads inquiries into meat, dairy, and egg production facilities.
Another speaker passionate about protecting animals—and all of earth's resources—is Clifton Roberts. A vegan for 18 years, Roberts became the Humane Party's first U.S. presidential candidate. He has over two decades of corporate organizational experience in industries ranging from health care to financial services. He currently serves as Senior Manager in the Global Ethics & Compliance Office for the world's largest semiconductor producer.
Other speakers at the festival will focus less on animal welfare and more on the health benefits of a vegetarian or vegan lifestyle.
Sid Garza-Hillman is a nutritionist and the program director at the Stanford Inn's Wellness Center. He is also the author of Approaching the Natural: A Health Manifesto. His talk will cover how to increase happiness, self esteem and long-term sustainability with a plant-based diet.
Dr. Brooke Goldner is a depression, anxiety, and trauma specialist who is also an expert on healing with plant-based nutrition. She is the author of the best-selling book Goodbye Lupus, and will speak at the festival on "How a Medical Doctor Healed Herself Naturally."
Robyn Landis is a Tucson-based health coach and fitness trainer. She is also the author of the books Bodyfueling and Herbal Defense. Her talk at the festival is entitled "Radical Self-Care: Nourishing Your Whole Self."
A pantheon of vegan athletes will also make appearances at the festival. They include:
Will Tucker, champion bodybuilder based in Gilbert, AZ
Thomas Tadlock, winner of MTV's Hottest Body contest and founder of Express Results Boot Camp
Robert Cheeke, bodybuilder and vegan activist, who authored Shred It!
John Lewis, basketball player and body sculptor, known as the BadAss Vegan
The festival will also feature a stage dedicated to cooking demonstrations by several well-known vegan chefs.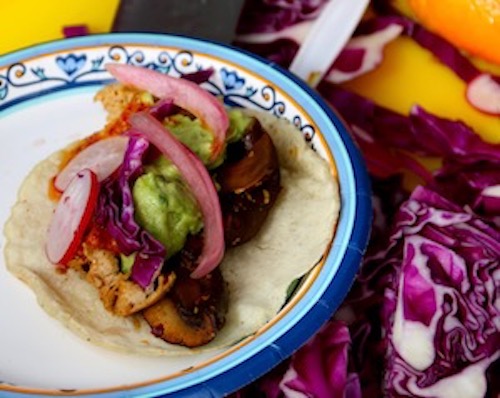 Jason Wyrick is the Executive Chef of The Vegan Taste, a company which delivers fresh vegan and organic meals across Arizona. He is also the co-author of 21-Day Weight Loss Kickstart and Vegan Tacos. He was the first vegan instructor to teach in the Le Cordon Bleu program and publisher of the world's first vegan food magazine, The Vegan Culinary Experience. In 2001, Wyrick defeated type II diabetes and lost over 100 pounds by going vegan.
Pastry chef Fran Costigan will also be back at the festival by popular demand. She was a chef in both traditional and vegan pastry kitchens before moving into teaching over 20 years ago. Her 90-Day Essential Vegan Desserts Course is based on her Vegan Baking Boot Camp Intensive. Costigan's cookbooks include, Vegan Chocolate Desserts: Unapologetically Luscious and Decadent Dairy-Free Desserts and More Great Good Dairy Free Desserts Naturally.
Having grown up enjoying a wide variety of healthy Indian vegetarian food, Haritha Mogilisetti will demonstrate how to prepare her aromatic version of Indian vegetable fried rice. An active member of Goshala, which maintains a cow sanctuary in San Tan Valley, she will also be on hand at their booth to discuss ways to get involved in their animal rescue.
Aside from the speakers and cooking demonstrations, the festival will offer scores of vendors, many of whom will be dishing up free tasting samples.
Festival-goers in search of hearty plant-based meals can check out the menus at the booths for Mi Vegana Madre, Simon's Hot Dogs, Sweet Earth Natural Foods, Udupi Café, and Urban Beans.
For lighter fare, they can visit Beanfields Snacks, Cedar's Mediterranean Hommus, Fluffy Vegans, Frites Street, Kawi Foods and Kellys Croutons, among others.
When it's sweet tooth time, patrons may dig into Lulu's Sorbetto, Peanut Butter Americano, Rescue Chocolate, and Vegan Dots. For thirst quenching, Juice Core and Hubert's Lemonade will be on hand.
There will also be several vendors offering humane apparel items, such as BeetxBeet, GuerillaWearFare, Humane Project, Oh Kale Yeah, Vegan AF, and Vegetaryn. And for humane body care products, there will be booths staffed by Ahimsa Essentials, Bare Naked Botanicals, and OM Botanical.
Non-profit groups will man informational booths at the festival. These include Animal Legal Defense Fund, Compassionate Farming Education Initiative, Share International USA, The Humane Society of the United States, and The Save Movement.
All in all there will be over 60 plant-based lifestyle vendors to visit. A complete list can be found on www.azvegfoodfest.com 
To round out festival activities, there will also be informal yoga classes, a children's arts and crafts area, a raffle benefiting a non-profit organization, and musical performances.
The festival is presented by U.S. Veg Corp, a production company specializing in plant-based events. U.S. Veg Corp also produces the popular New York City Vegetarian Food Festival and the California Vegetarian Food Festival.