SUPERIEUR ELECTROLYTES IS TURNING THE ELECTROLYTE DRINK CATEGORY 'UPSIDE RIGHT'
New drink mix is a holistic-focused electrolyte formula from real, not lab, sources with zero sugar and no dyes or weird ingredients.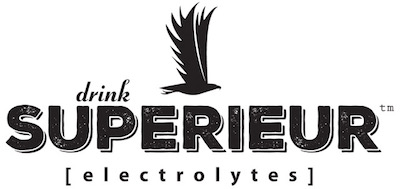 In today's world of dizzying technological and scientific advancements, it's difficult to know what's "real" anymore.
Superieur Electrolytes keeps it real by using real-sourced ingredients rather than lab-made ingredients. The light, refreshing electrolyte drink mix has zero sugar, includes pink Himalayan sea salt, ionic sea minerals from the Great Salt Lake, and real vitamin C from acerola berry extract, and is non-GMO, gluten-free, and vegan. Superieur Electrolytes is not just for athletes—it's for everybody. Electrolytes keep us hydrated, give us better immunity, more energy, and fewer leg cramps or headaches.
"It's time for an electrolyte drink with better ingredients," says Superieur Electrolytes President Seth Bovio, who created the formula. In fact, his product is turning the electrolyte drink category "upside right."
"We don't use weird ingredients like maltodextrin or erythritol or rebaudioside or dextrose. We like ingredients we know," he says. "And we don't need dyes and even so-called 'natural colors,' which are almost al- ways manmade. In Superieur Electrolytes, we don't add any color but just trust the actual color of the ingredients, and this is appealing to the marketplace."
Seth has a long association with electrolyte drinks, from the days when his mother competed as an elite runner in the Boston, New York, and Los Angeles marathons and received "special bottles" rather than regular drink aids on the course. He ran at the high school and collegiate levels in the 1980s, and a coach sparked his interest by pointing out how drink aids had switched to using high fructose corn syrup. The coach suggested there would be a future market for real-sourced ingredients. Seth changed majors from chemistry to business, and in the mid-1990s, started formulating sports nutritional products for elite athletes.
Over the years, interest in electrolytes has grown beyond athletes. When we are hydrated, we feel better, have more energy, and are less likely to catch a cold. Recognizing market growth for seniors, people who work outside, and children, Seth started Superieur Electrolytes in June 2017, and the Southampton, New York-based company has taken off since then. Sales have surpassed projections, and the selling point is the ingredients, he says.
Superieur Electrolytes uses a "Farm vs. Pharm" comparison:
• Superieur Electrolytes uses pH-balanced pink Himalayan sea salt, which contains more than 80 minerals, not highly processed sodium chloride, (also known as table salt). Pink Himalayan sea salt has a higher pH than sodium chloride, meaning it's less acidic.
• Superieur Electrolytes uses ionic sea minerals, such as magnesium and other natural trace minerals, from the Great Salt Lake, not lab-made ingredients like magnesium sulfate or magnesium citrate.
• Superieur Electrolytes uses real-sourced vitamin C from acerola berry extract, the complete vitamin complex found in nature, not calcium ascorbate and ascorbic acid, which are synthetic forms of vitamin C and not the entire vitamin complex.
In fact, Superieur Electrolytes is one of the only, if not the only, electrolyte brand that uses real plant-extracted vitamin C rather than synthetic, Seth says. "Our competitors say their products are plant-based and that can include ingredients made from corn. We use actual plants like berry and leaf extracts."
Superieur Electrolytes ingredients also include stevia leaf extract, organic rice, and bamboo stem extract, an organic source of the mineral silica, which is an anti-aging antioxidant vital to healthy skin, hair, and nails.
"We made this drink for ourselves and our family and our friends as we are always looking for healthy options without sugar that taste good," Seth says. "Our kids love it and take it to school in their bottles every day. My parents drink it as they don't want to deal with leg cramps when they sleep, plus it helps them drink more water, a big issue for older people."
Consumers who are looking for an electrolyte drink that's healthy, has zero sugar, and has a light but refreshing taste are attracted to Superieur Electrolytes, Seth says. 
"We don't need dyes and even so-called 'natural colors,' which are almost always manmade. In Superieur Electrolytes, we don't add any color but just trust the actual color of the ingredients."
—SETH BOVIO, PRESIDENT
"They've been extremely responsive to our formula right from the start," he says. "As soon as I mention pink Himalayan sea salt, I have their interest. Then, after they taste it, they're hooked."
Superieur Electrolytes drink mix comes in canisters and individual packets. The product can be found at hundreds of independent health and natural foods stores, such as Cambridge Naturals outside Boston, Health Unlimited in Atlanta, Queens Health Emporium and Good Earth near Salt Lake City; holistic centers like Life Center in Colorado and Wisconsin; the nation's best yoga studios, such as Hot On Yoga, Bodi NYC, and Modo Yoga in New York City, and PURE Yoga in Austin and Dallas; and running stores like Runner's Den in Phoenix. Superieur Electrolytes also is the official drink of the USA Yoga regional and national championships.
Superieur Electrolytes' eagle logo signifies an independent company "flying solo," Seth says. The company is 100 percent employee-owned and does not use third-party formulators, middlemen or mass distributors, allowing Superieur Electrolytes to have the best taste, best ingredients, and best price on the market.
The company takes its name from the French spelling for one of the Great Lakes, where Seth's wife was raised, which is symbolic of what the product aspires to be: superior, strong, and pure.