Dedicated: Know Better Hommus
What does it mean for hommus to be better?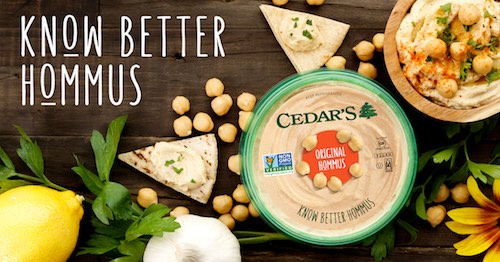 It means telling the truth about what is done and being transparent about how it's done. It means using the best, wholesome, non-GMO ingredients. It also means making the food you love without the preservatives and additives that the other guys depend on.
Cedar's Hommus values originality and has been making and spelling "hommus" the same way since the beginning. Simple, great tasting, and good for you.
The company honors its authenticity and believes no one makes hommus with more love. Its unique process allows the company to deliver the freshest, most dippable hommus you'll ever taste – without the preservatives. 
Taking pride in their honesty, their ingredients are as pure as their process. From the chickpeas to the tahini, to the spices used – everything added makes the hommus taste better, and is better for you.
Through the years Cedar's has refined its process, making it possible to serve more and more customers without ever losing the purity and the flavor that those first batches contained. Cedar's is proud to be one of the only certified vegan hommus brands on the market today.
Learn more at cedarsfoods.com
.